Home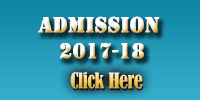 Welcome to Joypur Panchanan Roy College. Established in 1986 as a part of the scheme of the West Bengal Government to spread Higher Education in the rural areas of West Bengal, Joypur Panchanan Roy College is situated in the village of Joypur in Amta Block II in the district of Howrah. Joypur is connected by Jhikira-Howrah bus route (L-3) from Howrah, the district headquarters which is at a distance of fifty kms and Joypur-Bagnan bus route from Bagnan which is 21 kms away. The people of Joypur mainly belong to the agricultural community and the area is mainly inhabited by the people belonging to both financially and educationally backward classes. Being situated in the delta of the rivers of the Mundeswari and Damodar, popularly known as the river of sorrow in this part of the land, the area is badly affected by flood almost each year. The waters released from the different dams of the reservoirs seem to be the scourge of the peaceful farmers of this area.
The College at present is located in a campus measuring more than four acres of land and runs the Humanities and Commerce streams. Like most of the small colleges in the rural areas, it has its plus and minus points. New projects are now implemented, new constructions are taking place and with them, we believe, a new era will start for the College.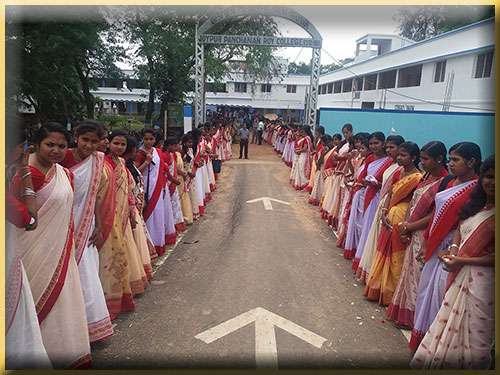 To spread Higher Education in the rural area;
To achieve excellence in Humanities and Commerce education ;
To enable the students of the rural area to obtain the degrees essential for pursuing post graduate degrees and competitive examinations.
To contribute to the over-all development of the rural area by participating in the community activities
To be one of the best colleges in the district of Howrah through a combination of imparting quality education and promoting a sense of human values among the students.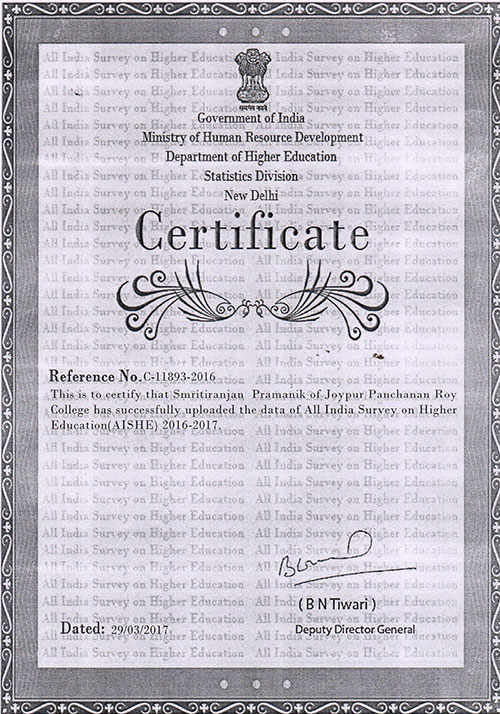 Governing Body
President: Sri Sukanta Kumar Paul (Govt. Nominee)
Vice President: Sri Susanta Kumar Roy (Founder Donor)
Secretary: Prof. Saumitra Sarkar (ex-officio)
Donor Member: Srimati Sula Roy (Prasad)
Government Nominee: Sri Ramesh Chandra Pal
Teacher Representatives:

Dr. Sabita Chakraborty
Smritiranjan Pramanik
Kumkum Chatterjee
Kashinath Pal

University Representatives:

Prof. Parthajiy Hazra
Prof. Nanda Kishore Misra

Panchayet Samiti Representative: Srimati Mithu Barui (ex-officio)
Non-Teaching Staff Representatives:

Sk. Nazrul Haque
Md. Hanif Khan

Student Representative: Sri Jitpal Koley
Courses Offered
Honours in Bengali, English, History, Education
Honours in B.Com. ( Accounting Group )
B.A. General : Subjects:- Bengali, History, English, Education, Philosophy, Political Science, Physical Education.
B.Com General: Accounting Group
Faculty Members
Principal
Dr. Saumitra Sarkar
Philosophy

Dr. Sabita Chakraborty, Associate Professor

History

Kumkum Chatterjee, Associate Professor.

Subhas Shit, Assistant Professor.

Piyali Pachhal, PTT.

Partha Pratim Patra, PTT.

Hafija Mullick, PTT.

English

Smritiranjan Pramanik, Associate Professor.

Dr. Nargis Tabassum, Assistant Professor.

Kaushik Mondal, Assistant Professor.

Harisadhan Ghosh, Guest Teacher.

Education

Saswati Majumder, Assistant Professor.

Puja Banerjee, PTT.

Namita Singha, Guest Teacher.

Bengali

Aparna Bandyopadhyay, Assistant Professor.

Banani Dolui, Assistant Professor.

Sushanta Kumar Mahato, Assistant Professor.

Jayashree Pramanik, PTT.

Srabani Das, PTT.

Political Science
Physical Education

Ashek Rosul, Guest Teacher.

Mahua Maity, Guest Teacher.

Saheb Barui, Guest Teacher.

Accounting Group of Papers

Kashinath Pal, Associate Professor.
Debika Mukherjee, Associate Professor
Manoj Kumar Singh, Assistant Professor.
Buddhadeb Ghosh, PTT.
Rakesh Prasad Bhagat, PTT.
Tusharkanti Mahapatra, PTT.
Non-Teaching Staff Members
1. Head Clerk: Vacant
2. Cashier : Sk. Nazrul Haque
3. Accountant: Debabrata Roy
4. Clerk: (a) Vacant
(b) vacant
(c) Sk. Matiar Rahman
(d) Vacant
5. Darwan: Md. Hanif Khan
6. Office Bearer: Vacant
7. Library Peon: Vacant
8. Lady Attendant: Chaina Pramanik
Contact Us
Joypur Panchanan Roy College,
Established-1986
(Affiliated to University of Calcutta)
P.O.-Joypur-Fakirdas, Amta-II, Howrah-711401, West Bengal.
e-mail: joypurcollege@yahoo.in
Tel. No.- 03214-234-130/03214-234-455